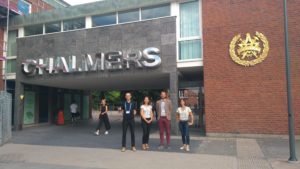 Capa.City in Göteborg!
1#  Presentation AESOP: "Reclaim the suburbs – the crisis of the residential subdivision" (Devisch, Serre, Toftager Larsen, Vigneron)
Speakers: Louis Albrechts (KULeuven, Belgium), John Andersen (RUC, Denmark), Rémy Vigneron (Lab InVivo, France), Majken Toftager Larsen (RUC, Denmark), Marion Serre (ENSA-Marseille, France)
Abstract: Reclaim the streets is an international movement that reacts against the privatisation of public space by temporary re-claiming streets (Mckay, 1998). Reclaim the streets is part of the larger Right to the city movement (Lefebvre, 1968; Harvey, 2012) that is, for more than half a century, criticizing the generalization of capitalist urbanization, advocating affordable housing, accessible services, qualitative public space and asking attention for the negative impact of urban processes such as privatisation, segregation and gentrification. Sub-urbanisation has been pointed out by both Reclaim the streets and Right to the city as one of the drivers of these processes. The statement that this roundtable wants to defend is that suburban, low density and dispersed developments, being part of the same global "net of uneven mesh" to which also cities belong (Brenner, 2015), are now beginning to face similar problems as their more urban counterparts did half a century ago. This roundtable focuses on one type of suburban development, namely the subdivision village, referring to villages that consist almost solely out of residential subdivisions built up of detached single family houses. The building density is low, the population is homogeneous, the car-dependency is high and land tenure is controlled by the private. While these features still keep on attracting new people to come and live there, it is also becoming increasingly clear that they are pushing subdivision villages towards an economic, ecologic and social crisis, potentially leading to the same problems that cities were facing when Henri Lefebvre (1968) was writing Le Droit à la Ville: poverty, social isolation, segregation, etc. So, this roundtable calls for action: it is time to reclaim the suburbs.Questions raised:Why do we need to reclaim the subdivision village?

Who needs to reclaim the subdivision village?

How do we need to reclaim the subdivision village?

How are citizens and NGO's already reclaiming the subdivision village?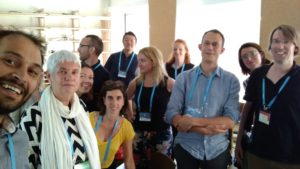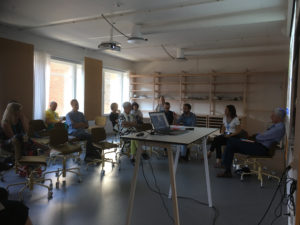 2#  Presentation AESOP: "Capacity building as a leverage for retrofitting residential neighborhoods : multiscalar case studies in France and Denmark" ( Devisch, Toftager, Vigneron, Serre)
Abstract: Residential subdivisions have made a salient impact on the physical forms of cities and urban areas in Europe. Yet these environments are often criticized for being a driving force of urban sprawl and for offering neither the qualities of natural land on which they were build or catering for urban life and community facilities. In this context, their retrofitting must be envisioned, including their hidden potentialities: How to take up ecologic, structural, economic and social challenges in these territories, mainly dominated by the private property? In this paper, it is argued that democratic processes of capacity building offer fruitful methods to face these challenges and implement suburban retrofitting in a durable way. As it has been emphasized in the literature on strategic planning, civic participation and community development, processes of capacity building are processes of joint learning, which facilitate enabling multi-actor participation (Albrechts 2004, Healey 2010). Thus capacity-building efforts present specific emphasis on strengthening the capacities of a collective and create interstitial arenas for negotiations and learning between inhabitants, local NGOs, businesses and institutions. In order to illustrate why capacity building is key to suburban retrofit, 3 cases in France and Denmark are explored, each representing different needs and focusing both on retrofitting of the individual lot to community facilities and structures. In this way, the presentation reviews and discusses how central concepts and approaches on capacity building may be appropriated to frame retrofitting strategies that meet the needs and desired outcomes of residents and communities as a whole.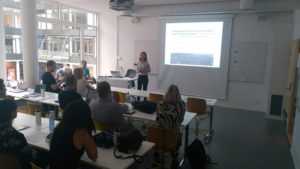 3#  Presentation AESOP "Living in a one-day-neighbourhood – Exercises in spatial capacity building" (Devisch, Serre, Toftager Larsen)
Abstract: In an overview of literature on capacity building within international development studies, Baser & Morgan (2008) make a distinction between competences, capabilities and capacities. Competences refer to the abilities of individuals to meet pre-defined objectives; capabilities to the ability of a collective to meet these objectives; and capacities to the abilities of the system as a whole. Within spatial planning, literature mainly focuses on how to trigger individual citizens to participate in and coproduce spatial policy making, in other words on the strengthening of competences (a/o Albrechts, 2004). But, as Baser & Morgan convincingly illustrate, durable transformational change requires the collective action of both citizens, businesses, NGO's and institutions, and thus depends on collective capabilities. Considering that the development of collective capabilities is context-dependent, as it relies on existing capabilities, precise objectives, internal resources, the socio-cultural context, etc., the paper chooses to apply (and adapt) the framework of Baser & Morgan to address the challenge of retrofitting residential subdivisions. The aim of this presentation is to explore how the Experiential Learning Theory (Kolb, 2014) can help a collective to consciously develop their capabilities in order to retrofit their own residential subdivision. The presentation introduces three of these capacity building processes in Belgium, France and Denmark. It then deconstructs the process relying on the learning cycle of Kolb (2014) and the 4-stage learning process of Brown & Lambert (2013). It concludes with a reflection on the reproducibility of these processes focussing on strategies to enhance collective capabilities.